Are you ADA Compliant? Do you need to be?
Starting in 2009, various courts held that the ADA applies to the websites of places considered to be "public accommodations" under that law.  As such, the websites had to be made accessible to individuals with disabilities.  However, there has been a lack of clarity from the courts, legislative bodies, or the Department of Justice ("DOJ") – the primary enforcers of the ADA – on what standards websites must meet to be compliant with the ADA.
Some People You May Know:
Nearby, these organizations have been sued for lacking ADA Compliance. In addition to having to payout large sums of money, these organizations have to make their website ADA Compliance, with an expected cost of $25,000 – $35,000
Winn Dixie paid $100,000

The City of Venice had to payout $10,000

Charlotte County $10,500

Domino's Pizza

Miami University, paid $25,000
In 2017, a judge for the Southern District of Florida federal court ruled in the first trial on ADA website compliance, found that compliance with the WCAG 2.0 guidelines satisfies the ADA. However, this ruling has not necessarily been adopted by other courts. Moreover, compliance with WCAG 2.0 can be time-consuming and expensive. In that same year, nearly 6,000 lawsuits were filed in Florida, mostly by 12 plaintiffs.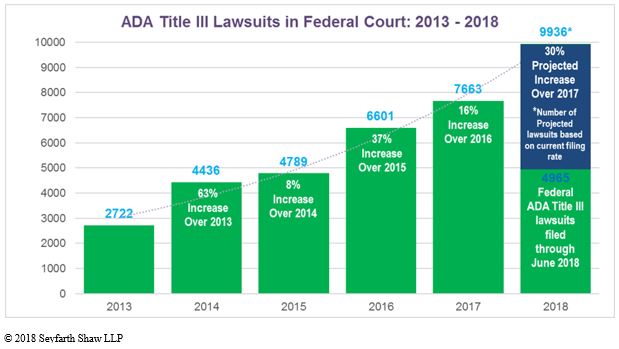 In 2018, 2,285 ADA website lawsuits were filed in federal courts, an increase of 181% over 2017.  Most lawsuits are filed in Florida and New York. Most  attorney's are saying there's no way to fight an ADA Lawsuit and most businesses settle out of court for attorney's fees and compliance; typically a few thousand to $20,000.
Some defendants have appealed ADA lawsuits to the 11th Circuit and lost.
There are no federal regulations or check-lists of what businesses must do to make their website ADA Compliance because the ADA was established in 1990; however, courts generally refer to WCAG (Web Content Accessibility Guideline) 2.0 for guidance.
Preventing & Responding to an ADA Claim
In 2017, Governor Rick Scott signed a statue that helps businesses defeat or limit frivolous ADA barrier-to-access lawsuits and greatly minimize their exposure to related attorney fees and costs.
While the new law does not prohibit ADA  lawsuits or prohibit plaintiffs' attorneys from seeking fees, it does provide a way for businesses to prevent and resolve complaints out-of-court.
Things business can do include:
Retain a qualified expert to conduct an inspection of their property. If the property is found to be in compliance with the ADA, the expert may issue a certificate of conformity that includes the date of inspection, proof of the expert's qualifications, and a statement confirming that the property is in conformity.
For properties that are not found to be in compliance, the owner may develop and submit a remediation plan approved by a qualified expert indicating that the property will be brought into conformity within a specified time period. The plan must detail the proposed remedies for the deficiencies, and it must state when the remediation will be initiated and completed, which must be within 10 years. This extended time frame will enable businesses to control the timing and cost of their remediation measures, as they will be able to implement the changes in conjunction with any planned future renovations or remodeling projects.
The compliance certifications or remediation plans may be filed with the state's Department of Business and Professional Regulation, which will now maintain a publicly accessible website to serve as a registry for all of the certifications and remediation plans that it receives.
Some of the requirements:
Content must be coded for audio translation by screen-reader software.
There must be on-screen captions in videos for screen-reader software to read to the blind and descriptions for the deaf.
Sites must include accessible drop-down menus for those who use a keyboard as an alternative to a mouse.
According to some firms, a simple, 10-page website would cost about $1,600 for a firm to audit and identify accessibility issues.