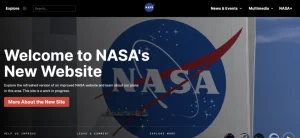 Originally built on Drupal, NASA decided nearly two years ago to re-think what CMS (Customer Management System) their website was built on.  In the discovery phase, the website editors were said they wanted something without rigid templates. They wanted more flexibility when designing the nearly 70,000 posts and pages of the NASA website.
After evaluating hundreds of CMS solutions, 4 stood-out. To decide which of the 4 they preferred, NASA tried out each CMS by creating identical prototype websites on each platform and having users try them out
Three things made WordPress standout:
Access to Resources. WordPress is open source and supported by a huge community of programmers, authors and content developers. With a commercial system (one that is proprietary and not open source,) one has to go to the developers for questions and concerns.
The plugin ecosystem is highly flexible and varied and content can be analyzed by the author before it is published. before
Easy to use environment for creating content
WordPress's built-in Gutenberg block editing system enables web designers to create great content, but switching to it wasn't easy for everyone. A lot of time was spent on providing hands-on training for web designers who needed additional help. An environment of open discussion was created to ensure everyone had the help they needed.
On a personal note: I am one who finds the block editor difficult. I am spoiled by years of using Divi's visual building and block editor!
Read more about NASA's new website here
CMS is a software application or a set of related programs that allow users to create, manage, and publish digital content on the internet.
CMSs are commonly used for websites and web applications to simplify the process of content creation and maintenance.
Key features of a CMS typically include:
Content Creation: Users can create and format content, such as text, images, videos, and links, using a user-friendly interface.
Content Editing: CMSs often provide WYSIWYG (What You See Is What You Get) editors, making it easy for non-technical users to edit content without needing to know HTML or other coding languages.
User Management: CMSs allow multiple users with different roles and permissions to collaborate on content creation and management.
Version Control: Many CMSs offer version control features, allowing users to track changes, revert to previous versions, and see who made specific edits.
Publishing: Content can be scheduled for publication at specific times and dates, allowing for content management and updates to be automated.
Templates and Themes: CMSs often provide templates and themes that allow users to customize the design and layout of their websites without needing to code from scratch.
Plug-ins and Extensions: CMSs can be extended with various plugins or extensions to add additional functionality, such as e-commerce, SEO optimization, or social media integration.
Some popular CMSs include WordPress, Joomla, Drupal, and Magento (for e-commerce). Each CMS has its strengths and weaknesses, making it suitable for different types of websites and user needs. The choice of CMS depends on factors like the website's purpose, scalability, ease of use, and required features.