Looking to take your business to the next level?
YOUR perfect website is achievable.
Get ready to elevate your online presence with CeJay Websites & Photography in Port Charlotte, FL! We're experts in web graphics, layout design, and various programming languages. Our team is skilled at transforming your business information into sleek and intuitive pages that'll leave your customers wanting more.
But we don't stop there – we provide marketing and advertising advice for both online and traditional media platforms, ensuring that your brand gets the attention it deserves. And with our Search Engine Optimization (SEO) techniquesg, you can rest easy knowing that your website is in good hands. We'll help you evaluate your web strategy and make the most out of your investment.
So what are you waiting for? Let's take your business to the next level!
The Parts to the Whole…
A lot goes into creating a website that is truly a marketing tool for your business.

The Quickie - Need a website NOW?
Introducing "The Quickie" website by CeJay Websites & Photography in Port Charlotte, FL
Starting at just $2,000 – perfect for those who want to make a big impact in a short amount of time.
To get a website in a week, order a "Website Quickie" plan using our online form and submit all the necessary data. Once the deposit is made, your website will be complete in about 5-7 business days.
Starting at $2,000
(very small sites may be less, restrictions apply)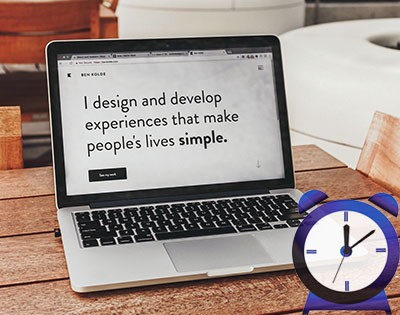 Why Choose CeJay Websites & Photography in Port Charlotte, FL?
With 20+ years in the Internet industry, we have developed a process that makes it as simple and painless as possible to help you pull together an Internet strategy and website that will really WORK for your business or organization.
We have developed websites for many industries, including manufacturing, medical, law, home care, restaurants, nonprofit organizations, schools, churches, HOA's, retail and service businesses.
Our goal is to pull together your information, present it in a logical, understandable manner that has an impact on your readers! The site should be consistent from page to page, attractive and easy to read across multiple browsers and devices.
Did you know that, in the U.S., more than 65% of people browsing the Internet are doing so on a mobile device? Making sure your site shows well on a phone and tablet is a high priority for us!
Domain Names
CeJay Websites can help you choose a domain name that is uniquely yours and can be easily found in Search Engine searches.
Should be as short as possible, easy to see and spell, says what you do
Domains are registered by a person (not an business or organization). An address, phone number and email address is required. (if we manage your domain, it will be registered in YOUR name)
Domains are renewed yearly or in multiple year packages, typically $5 to $35 for the common "extensions"
There are lots of new "extensions" available, beyond .com, .net, .org, .us and .biz. Why not try a .gallery or .studio for your art shop!
You can have more than one domain to ensure no one else uses a name similar to yours. Your additional domains "point" to your hosted website, no additional hosting fee. Example: If you go to cejay.com, you will end up at cejayassoc.com!
Hosting Services
We have developed relationships with hosting companies that are stable, offer the best services, site delivery speed, storage space and technical support.
We do not host your site directly! We leave that to companies who have the manpower to keep their servers secure, the technology up-to-date. Our personal hosting rep helps us provide you with the best.

An annual hosting package is approximately $96 per year, sometimes less the first year
It can be purchased by the month, year or in multiple year packages
Some hosting supports WordPress better than others
CeJay will set up and manage your hosting, invoicing you yearly for your services. You don't need to worry about who and when you need to renew.
The Design Phase
…is where the process of developing your website starts.
Graphics for the Internet are created differently than print media graphics. Our team is expert in converting your present logo, colors, and layouts for use on the Internet.
Small image file sizes for quick loading
Colors schemes that take advantage of monitor technology
Layouts that are stable across different browsers and platforms; such as Internet Firefox, Chrome, Edge & Safari, on both PC and Mac platforms, in all screen sizes
We can create new graphics for your business, for use not only on the Internet, but also serving your printed needs. (see our services at Business Graphics)
We strive for continuity with all the graphics your business uses, for a more contiguous and Branded look for your business.
Site Content Development
Pulling together your site content can be a daunting task. That's where our experience counts!
We evaluate your message and what you do – to create a site strategy
Develop a system of navigation for people (and spiders) to travel through your site
Develop pages and posts (in WordPress) in a pleasing, easy-to-read layout
Assist you with edits to your content
Need help writing your content? Need help finding your "voice"?
We can help – using what you have written, information from your business plan, or from interviews with you. This is done at an hourly fee. Sometimes, all we need to do is start it – and your creative juices will kick in!
Maintenance & Updates
CeJay Websites offers reliable and quick-turnaround for changes you need done to your website – that you don't want to do yourself!
Economical: no regular monthly fee. We make edits to your site when you need them.
Call, email, text or stop by – to give us your updates
Not only are your visitors unimpressed by unchanging or out-of-date information on your site, but so are today's search engines. Search Engines (such as Google, Yahoo, Bing) want to bring their customers the latest, greatest information available on a subject. And, they will actually downgrade your site if nothing changes over a long period of time.
Professional Email
There are really only 2 choices to consider these days: IMAP Mail and Exchange Mail. CeJay Websites can provide you with either so that you have a business account, using your domain name. Example: can****@**jayassoc.com
Pricing varies depending on which you choose. We offer Help Services and tutorials to guide you in setting up your email on your different devices and computers.
Transform YOUR Vision Into Reality